FIRST AND FOREMOST
Giving All Honor, Praise and Glory to Our Mother / Father
Creator and to the Memory of Our Great Afrikan Ancestors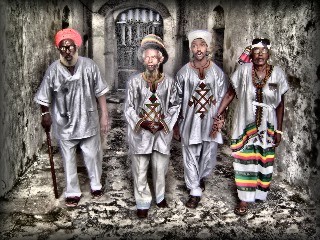 Nana Okofo, Bongo Shorty, El Shabazz
&
Seestah IMAHKÜS

Returning "Thru the Door of No Return"
We have returned to our Ancestral "Home" land,
and invite you to also come "Home".

---

Since our inception in 1990, ONE AFRICA has successfully organized the following programs and services:
OCEAN FRONT GUEST LODGING (Chalets)

"THRU THE DOOR OF NO RETURN - THE RETURN" Commemorative Ceremony

The EDUCATIONAL SPONSORSHIP Program

The Annual JUNETEENTH Commemoration

Black History Month Observance

The Healing House of Healing Services
ONE AFRICA represents an investment in the future for Afrikans at home and abroad. Whether you come to Ghana as an individual visitor, on a pilgrimage, in search of your roots, as an educational / cultural group, considering repatriation or investment, we may be able to assist you in formulating plans for reaching your goals.
We are not just "Tour Operators" but a grassroots family organization of Afrikan Descendants who have repatriated to our Ancestral land and can provide a unique and stimulating introduction to Ghana for brothers and sisters who are contemplating repatriation.
Our spiritual son El Shabazz provides The Healing House, an approach to Holistic Health Care and magic hands that create vegetarian cuisine which will delight your soul.
We function as consultants in most areas of interest; providing valuable
services as your Hands-On-Assistants in the Tourism , Repatriation and Information process. Love of the Creator, love of family, love of ourselves, the people we serve and quality of service are our greatest commodity.
We who have been blessed to return home, owe a debt of gratitude to our "Mother" Afrika and must do all we can to redeem and reclaim her.
Let us make your visit to Ghana, West Afrika, a more historical, cultural and
unforgettable experience.
WHAT ARE YOUR NEEDS?

| | |
| --- | --- |
| Accommodations | Information |
| Banking | Investments |
| Cultural Groups | Lawyers |
| Educational Programs | Musicians |
| Farming | Schools |
| Fashion Designers | Shopping Service ( Personalized ) |
| Forex Bureau | Traditional Afrikan Religion |
| Traditional Healing | Vegetarian Cuisine |
AFRICAN PROVERBS
"The God of Wisdom says one head cannot go into counsel.
Two (three) heads are better than one."

"If your parents take care of you until you cut your teeth,
you must take care of them when they lose theirs."